PLEASE JOIN US AT THE DACRE HALL LANERCOST PRIORY NR BRAMPTON CUMBRIA CA8 2HQ IN AUGUST 2022
Carolyn aims to make objects that arrest attention and invite handling. These may be hold-in-the-hand sculptures or smooth-glazed bottles.
Often using locally-found materials in her work, she also makes site-specific multi-media installations.
*Carolyn is a member of the core group who organise and present this annual exhibition each year.
Based in Brampton, Northeast Cumbria, she has taken part in exhibitions and events across the UK, often working with her sister and fellow-artist Frances Marr.
Carolyn is currently studying for an MA in Contemporary Art and Archaeology at the University of Highlands and Islands.
READ MORE
Polly's linocuts feature Bun-Head, her small and feisty hero, who depicts the ups and downs of the recovery from traumatic experiences, the struggle to love and value yourself in a world where the female voice is often ignored or suppressed, and the need to set boundaries and say what you think.
Designed to send empowering messages, Polly has based this figure on herself, her daughters and many women she knows or has spoken to.
Polly's prints are individually hand-inked and printed either on her small Albion press or with a baren.
Polly studied Fine Art Printmaking at Manchester School of Art. She works from her home in the Eden Valley in Cumbria. She is a member of Cumbria Printmakers and The Eden Valley Artistic Network. Her work is regularly exhibited across Cumbria and the UK.
www.https://pollymarixevansprintmaker.co.uk [email protected]
"To me, photography is an art of observation. It's about finding something interesting in an ordinary place... I've found it has little to do with the things you see and everything to do with the way you see them." (Elliot Erwitt)
This quote just about sums up the way I feel about photography. For me it's all about capturing the essence of the moment without getting too bound up in reality. I have found my camera to be less of an instrument with which to record what I see in front of me, but more of a tool which allows me to present the scene in a personal way.
Light, colour and form shape my imagery - using the 'Intentional Camera Movement' (ICM) technique, the structure of the subject is rendered as a confusion of colours and shapes with just the merest hint of reality behind it, allowing the viewer to interpret the image as they wish.
Some of my most recent work has been made by using fabrics and coloured objects which, when arranged 'correctly' can create the illusion of being somewhere I would rather be.
Photography, like life itself, is what you make it.
https://www.triciameynell.com https://www.instagram.com/triciameynell/
Creating modern designs using traditional methods forms the basis of Nancye's jewellery portfolio. The rings, earrings, bangles and necklaces are made using gold, silver and non-precious metals with the addition of precious and semi-precious gemstones which add colour and texture.
Influenced by the local environments and landscapes in which she lives and works, her range of designs comes from the standing stones and red sandstone walls of Cumbria as well as from the rubble walls, Neolithic temples and sea urchins of Malta. Nancye has recently created two new ranges, one based on a current obsession with all things geological and the other with a strong cosmological influence.
With an extensive range of jewellery shown on her website, Nancye also works to commission.
https://www.nancyechurch.com
ttps://www.instagram.com/nancyechurch/
Martin Evans lives and works in Carlisle, Cumbria and studied Graphic Design at Cumbria Institute of the Arts where he developed his eye for colour and composition. A self-taught painter and mural artist, it is the pure joy of painting that drives his process. Cumbria has some of the most spectacular landscape in the UK, and he is constantly inspired by this subject matter. Martin's work has been exhibited widely and he has had work selected for the prestigious 2020 Discerning Eye Exhibition. His work can be found in private collections across the UK and worldwide.
"The main theme running through my landscapes is the exploration of paint and colour to capture the atmosphere of a place and time. My inspiration comes from the changing seasons or changing light at a specific time. My focus is on capturing a contemporary impression and not an exact representation.
Mariana is a Ukrainian self-taught mixed media visual artist, working primarily in photography and painting. Through mixing, merging, and reimagining, she creates reality-twisting works that leave the viewer wondering. Her aesthetics are often described as moody, and deeply atmospheric.
Having obtained Bachelor's degree in International Law and English, most of her art skills Mariana developed through practicing on the side, with her day job being a freelance translator and interpreter. She attended several non-academic courses in photography and art to level up her skills, and, in time, started to take on photography and illustration commissions.
In February 2021 she launched a print shop with her landscape artworks. She did several collaborations with different creatives from Canada and the USA, the re- sults of which are available on her social media, and some of them even available for purchase.
In the wake of the war in Ukraine, in April 2022 Mariana moved to Cumbria, UK, and today works on personal and commercial projects as an art director, fine artist, and photographer (travel, lifestyle, architecture).
'Richard Kennedy is a furniture maker and woodcarver with a great love of medieval carving.
He designs and makes cupboards, desks, tables etc, often carved, and also a range of unusual jewellery boxes.
JULIA NEUBAUER Knitwear Designer
Julia Neubauer is a knitwear designer based at The Brewhouse Studios, by the river in Alston, Cumbria. Each item is hand framed in British spun pure wool from a Yorkshire woollen mill
Designs include wrist warmers in plain, stripe and colour blocks, hats, headbands and neckwarmers with stripes, jacquard or felt embellishments, scarves and fine lambswool wraps.
Julia finds inspiration for colours and patterns from many sources, including the natural world and research into the history of decorative arts, folk art being a particular favourite.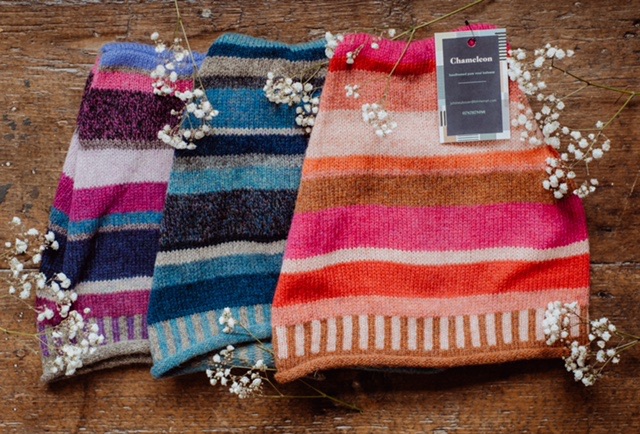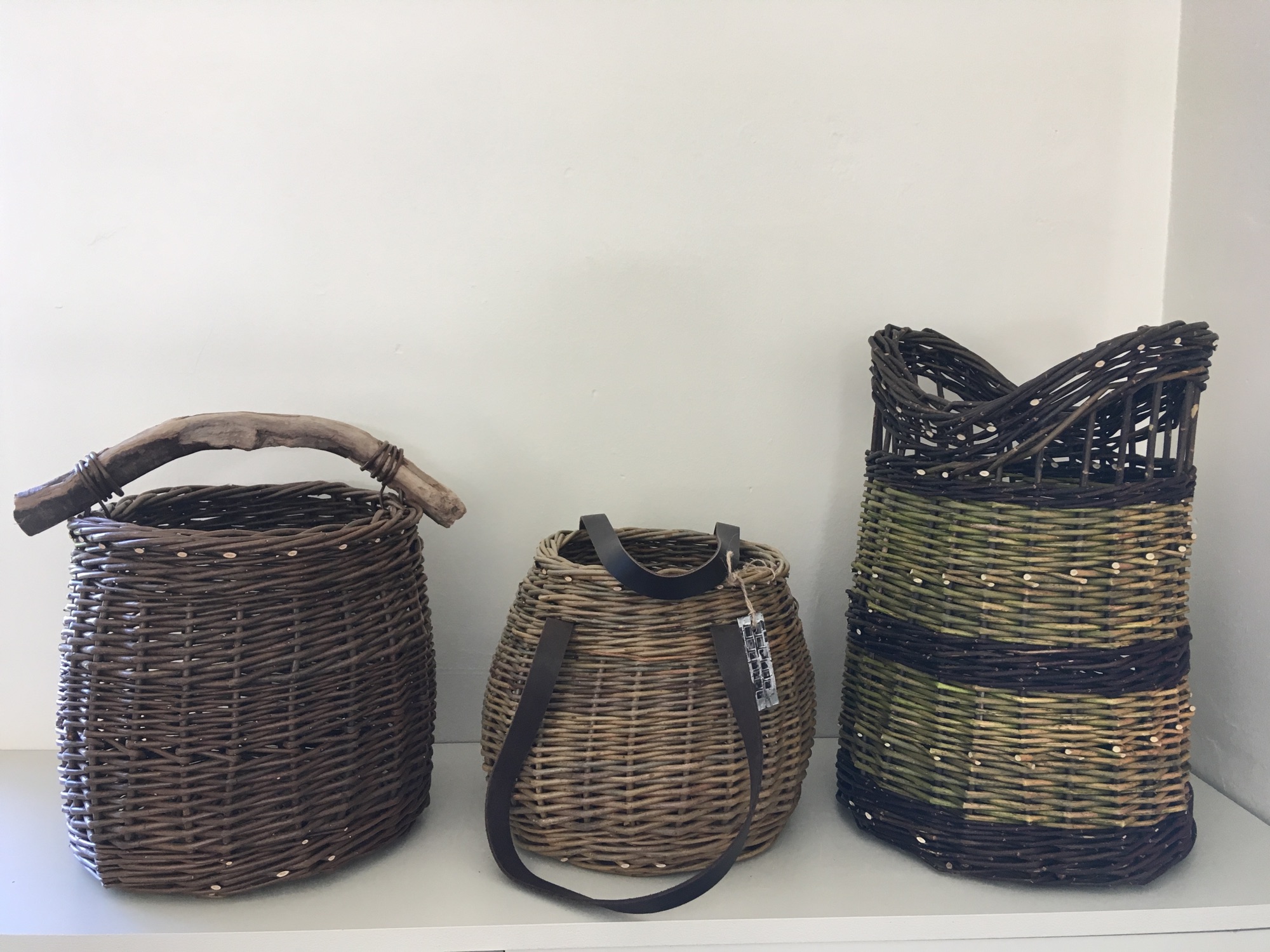 WITHY CRAFTERS are a group of basket weavers who come together to create and exhibit their work:
JACKIE CARNELL is based high up in the Pennine Hills, where she creates her baskets in her workshop overlooking the beautiful but wild landscape. She offers workshops in this amazing place for anyone who would like to experience the joy of working with willow.
JEAN TINSLEYJean took early retirement and studied at Newcastle University gaining a
BA Hons in Fine Art in 2014. After graduating Jean was introduced to willow weaving and never looked back adding a modern twist to a more traditional craft. She still enjoys other media and offers workshops in a variety of techniques and materials at her studio at Kimberley House, Stocksfield.
PENTON WILLOWS Kath and James have been making baskets for the past 20 years and have explored traditional basket making techniques in their work. Their work draws on their varied experiences: Kath from her Fine Art background and James from his many environmental willow projects.
Mary Kennedy is an artist who paints landscapes and domestic scenes, and translates her imagery onto wooden boxes and trays etc.
Her painting is full of detail, light and colour, as well as humour.
My background is in silversmithing but having moved from Yorkshire to Cumbria 3 years ago I wanted to diversify. In all my design work I'm inspired by the natural environment around me. I love making these light sculptures which are both strong and fragile at the same time.
DENISE HUDDLESTON Artist Printmaker
Denise is an artist printmaker and wildlife watcher, inspired by the wild world and wild places.
With a background in stitched textiles, she lived for many years in the English Lake District, where she lectured and exhibited nationally and further afield.
Drawn to the wilder Hebridean landscape and a switch to printmaking, Denise now lives and works from her tiny studio/gallery in a small historic croft house overlooking the sea on the Isle of Skye.
Her work blends textural printmaking elements reflecting her textile background and crisp graphic screenprinting . . often in the same piece.
https://www.instagram.com/cuckootreeskye
From my Studio in Gilcrux, West Cumbria, I design and make beautiful stained glass windows for private homes and public buildings, as well as small bespoke panels for special occasions.
The commissioning process is simple. I discuss ideas and requirements with the client and produce a design for approval. Once the design is agreed I draw the full sized cartoon, carefully choose the glass for cutting, hand-paint and fire the glass where required and finally lead up and clean the finished panel ready for installation or hanging in a frame.
I also use my kiln to fuse and slump glass which can be incorporated into the more traditional work I do or designed to be decorative glass art pieces for the home
https://www.nikkiclarkglass.co.uk
CATH BALL - STITCHED CERAMICS Porcelain Ceramics with a twist
Cath has been making, selling and developing her Porcelain ceramic range for over 15 year and is based in a small village just outside the border city of Carlisle. She works from a small studio next to her house and sells her work online as well as other events locally and around the country.
Now focusing on the process of hand building, Cath hand rolls porcelain clay and uses a verity of vintage laces to add delicate and intricate textures and patterns into the fine surface of the clay.
Her signature aqua glaze in mixed in house and dipped to further highlight the textures surface. In some areas the glaze is then wiped back to only appear on the texture to give a feel of fabric and an appliqué effect.
Her style is unique, it has a contemporary/country feel, mixed with the nostaigia of 'using your family's finest china'
Finest materials and craftmanship. combined with her calming colour palette, make her work beautful to use and enjoy.
https://www.stitchedceramics.co.uk
https://www.instagram.com/stitchedceramics